Important Information
Hide Information
Preproduction model shown. Actual production model may vary. Canyon initial availability early 2023. AT4X model available spring 2023. AT4X Edition 1 Package shown is extremely limited availability. The Safari Bar and Front Grille Light Bar may block the front-view camera or limit the camera's field of view, which will inhibit the HD Surround Vision system. Always check around the vehicle before driving or parking.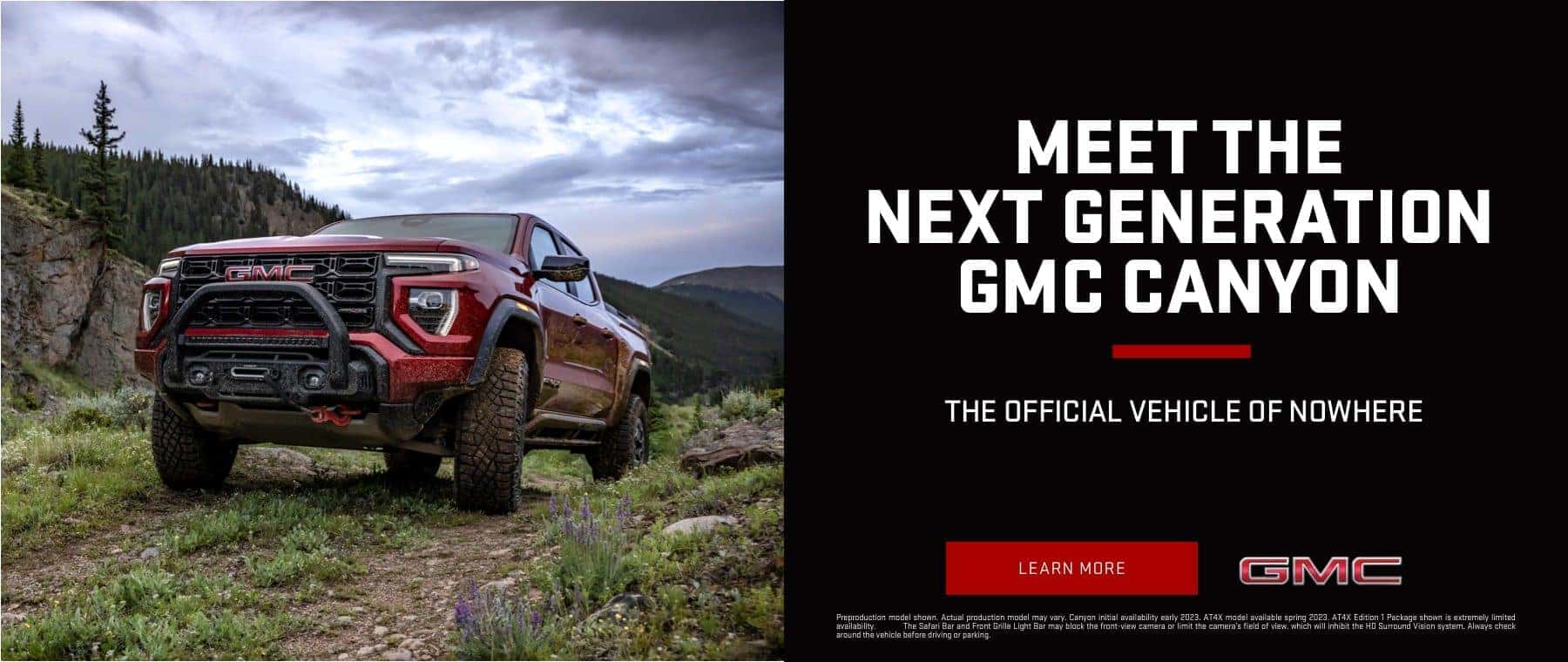 Important Information
Hide Information
1. Length of contract limited. Some customers may not qualify. Not available with some other offers. Take new retail delivery by 8/31/22. Some features shown may have limited, late or no availability. See dealer for feature availability.
Important Information
Hide Information
1. Length of contract limited. Some customers may not qualify. Not available with lease and some other offers. Take new retail delivery by 8/31/22. Some features shown may have limited, late or no availability. See dealer for feature availability.
Important Information
Hide Information
disclaimer: with approved credit, not all buyers will qualify. Must fiance through GM financial. See Dealer for details.
Important Information
Hide Information
offer valid for all customers. small deposit holds vehicle until delivery. See dealer for details.
Important Information
Hide Information
Some makes and models excluded. Can not be combined with any other offers. See dealer for details. Offer expires 8/31/2022
Important Information
Hide Information
Preproduction models shown. Actual production models may vary. At participating dealers. Reservation does not guarantee delivery within a certain period of time.
Certified Pre-Owned
Each Buick/GMC Certified Pre-Owned vehicle is thoroughly inspected and reconditioned and includes factory-backed limited warranties and roadside assistance.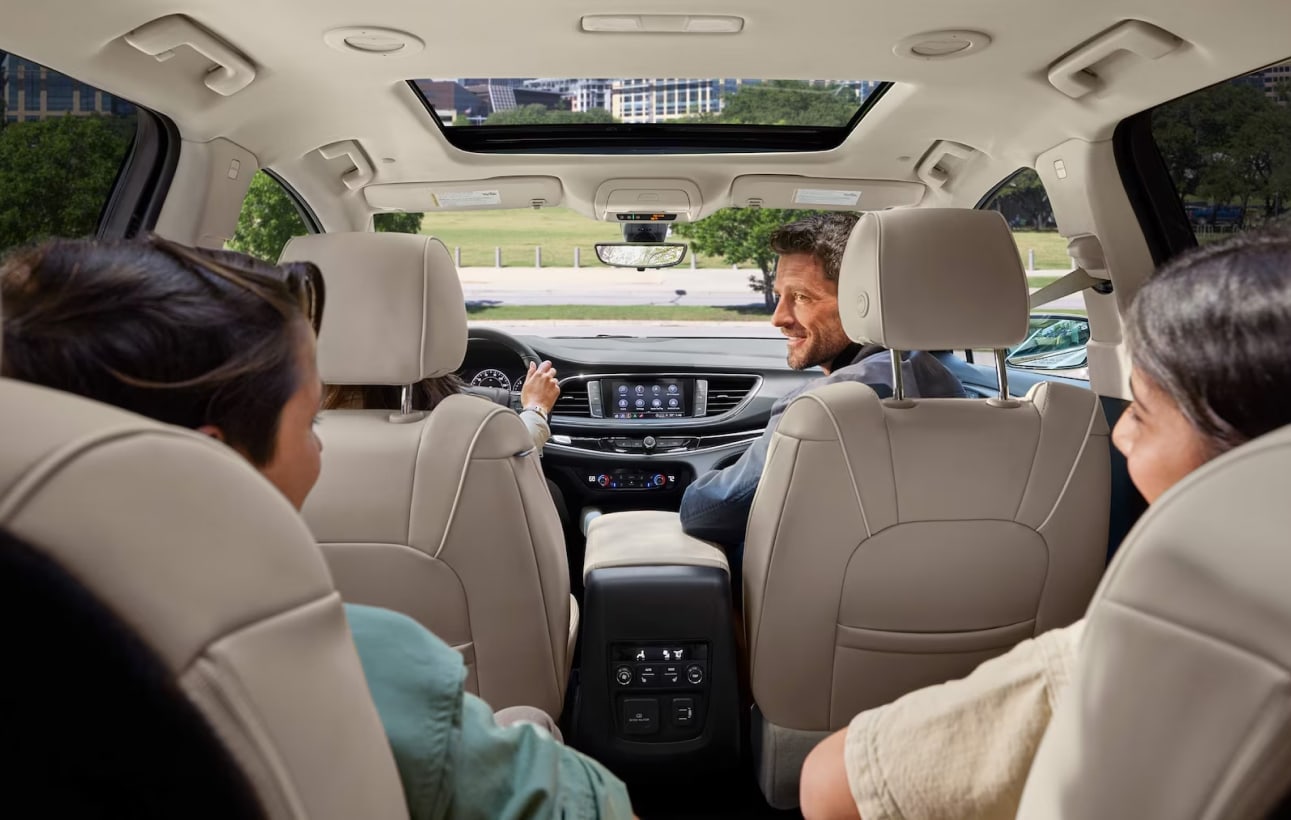 Our Reviews
Great customer service I was looking for a new car and Richard really helped me out in finding a new car
My wife and I were looking to purchase a SUV. I called all over to many GMC dealerships and got the most horrible service. Then I called Big Star Buick GMC in Baytown at 9 pm. Houston Benjamin answered, he was very friendly and pleasant. He answered all my questions which took about 45 minutes because of all of my questions. Houston did not rush me at all, what makes this amazing was he had just completing his work day. He took the time to help me fully with the best service you could ask for. I had was going to go to the dealership right then and I was at Beck and Masten at the time. He said, he would wait for me. After, I spoke to my wife she said it would be better to reschedule for another time. So, I called Houston and rescheduled. There was another 15 minutes time lost, Houston did not complain at all. He was still very VERY Professional!!!! Our appointment was set to go look at an Acadia which he had on the lot. We had our time scheduled for 6:00 pm. We got there and I was told Houston wasn't in at that time. I ask to see the car and was told it had been sold already. I was upset, here it is I have driven over 30 minutes to get to this appointment and the salesperson (Houston wasn't there), and the car I came to look at was sold. Houston was on his way back to the dealership, so, they gave me to his team member. I was upset....until I found out why Houston was late. Houston Benjamin went out of his way to go physically help one of his customer who got stranded. I felt like WOW, that is service. Okay, as for the other situation of the car not being there at the dealership. Houston had texted me earlier in the day to let me know the car was sold. Mr. Busybody (me) did not check my text until I was told by Mr. Benjamin, 'Did you get my text?' This is the time Mr. Foot-in-my-mouth (me again) checked to verify, yes he did texted me. So, I blamed myself for this misunderstanding. So, we proceeded to work together. He showed us a Acadia for us to compare and look at, unfortunately it was sold. So, for a couple of weeks we designed and chatted about the SUV. My wife wanted the Satin Steel color. It was discontinued by GMC after getting my wife's hopes up. We even test drove a car that day in the color option my wife wanted. It was not the trim she wanted though. We found this out once we returned after the test drive. Mr. Benjamin, while we were test driving, went and found the car at a sister dealership (Texans in Humble(The WORST Dealership)) that is another story in itself. Houston called for me to make sure they could offer everything we had already agreed on. I asked him how was he getting credit for the sell and he said, he was not getting anything from it. Just the satisfaction of helping us. The jerk (Samir) at Texans Buick GMC said he could do it. So, my wife and I drove immediately over to that worthless dealership. Samir and team was not pleasant at all and tried selling me crap I did not want. So, we left and went back to Big Star Buick and GMC. Two hours of my day wasted dealing with those jerks at that place. I called Houston and explained to him how they tried screwing us over there. He said, we could come back, I told him we were already on our way. I asked about filing a complaint about the other place. He said I could talk to a manager. My wife said, we were going to just forget about it. We chose another color and trim level and ordered my wife's SUV from Houston. Everyone at the dealership (Big Star) was awesome. Houston even paid for a full tank of gas in my current vehicle to account for the horrible experience with the other place. My wife and I are VERY HAPPY we went back to someone who gives a darn about their customers. My wife is waiting to get her truck, and Houston is still being a great person by keeping us updated. PS. Miss. Sheryl is awesome too!!!! We are excited.....
Great, efficient experience, start to finish. Adolfo, my sales rep, was easy to communicate with and handled my purchase with professionalism, friendliness, and efficiency. Milton in finance showed the same qualities.
One of the easiest/fastest experiences! Miki kept his word!
Definitely the best experience I've ever had. Wesley was honest and very helpful. There was not one moment that I felt pressured into buying what so ever. Baytown GMC is my go to stop moving forward.
Crystal Golden was our service rep n sold us a great vehicle; loved our experience n the service was more than what we could of asked for!
They made the process so easy and so fast. I was very pleased with the customer service!
Very customer orientated, fast but great service! Took me about 3 hours to test drive 4 cars and walk out with my favorite! Salesmen were not pushy or overbearing at all! Loved my experience here, will for sure be back!
I had a great experience. No pressure in buying a vehicle. Just good advice from the salesman Miki. Love my new 2021 GMC Sierra truck.
Vincent Pierre was awesome and patient with me as I purchased my first vehicle and he worked with me to get me the best rate!
Great service. They are awesome here. They were able to help me get great financing. From sales to finance, professional and wonderful service from all.
I just recently bought a car from Crystal Golden and I couldn't be more happy with my Purchase Crystal understood my concerns and made my car buying easy and fast.
Friendly, fast and efficient dealership. I did not know which vehicle I wanted, My salesperson VP showed me all of the Buick's until we found the perfect vehicle for me. Bert in finance did an excellent job getting me a low interest rate and and helped me choose the best options for my new ENCORE GX. Thank you Baytown GMC/Buick Janet
William, salesperson, was very good to deal with and we were able to end up with the purchase of a new GMC Acadia. very pleased.
First truck to ever buy and it was a Great experience. Great service and very smooth. Nice people all across the board. Thank you for a nice truck
Everything went smoothly and fast and I am so satisfied.
Patrick sales Mgr was very friendly and helpful, he transfer my call with the best sales agent Milton Martinez. They both work together to make the purchase fast and I walk there with my new 2020 Acadia. I am coming back soon to purchase a truck for husband. Thank you Patrick and Milton!
My time spent here was excellent! Great service and friendly people! The atmosphere was inviting and comfortable. I waited in the lobby area and was able to get some work done as well.
Everyone was very pleasant and professional, process was quick and easy. Would recommend to friends and family members, Will be back to purchase our next GMC
I'd been looking for an SUV so some time now. And heatd alot if crazyness. But we to Baytown GMC and meet Nicole. I was able to get the truck i need and ended up with truck of my dresms to fit my family needs. Thank you!!!
It was a wonderful experience. All the way around. Everyone so friendly.
Great people to be around always trying to help everyone out
Quick service and friendly employees. Nice waiting area with table available while I waited. I also had access to Wi-Fi while I completed some online activities.
My experience with the dealership is always a pleasing experience. The people who help to service me are always very approachable and pleasing to talk to. Their attitudes are wonderful!
Zach was excellent, his communication skills in letting me know the status of my car was amazing. He made sure I was satisfied with the service throughout my whole experience. This is not my first time getting one of my vehicles serviced and won't be my last. I've had my vehicle serviced at other locations (such as Monument Chevrolet) and it was a horrible experience took my 4 months to get it fixed with no communication. Thanks to the whole staff at Baytown GMC Buick, I live about an hour away but I'll still be coming back!
Welcome to Big Star Buick GMC
Big Star Buick GMC: Your Premiere GMC Dealership in Texas
Interested in finding GMC dealers in Texas? There are plenty of GMC dealerships in Texas but not many like Big Star Buick GMC dealerships. We offer a stress-free shopping experience where you can find the right model for you and your Houston drives without worrying about the hassle. We also offer new and used financing options as well as lease options. Learn more about our Big Star Buick GMC dealership today then visit us for a test drive in your favorite model.
New and Used Vehicles
No matter if you're looking for a new or used model for your next vehicle, you can trust our large inventory will have something for you. Take a look at our certified pre-owned models as well to save more on a like-new GMC model from our GMC dealer in Houston. Also, check out our value your trade tool to see how much we could offer for your current vehicle.
Services and Parts
As one of the higher-end GMC dealers in Houston, we pride ourselves on making sure your every automotive need is covered. This is why we offer access to our certified service team as well as genuine parts and accessories. On top of this, we have service and parts specials for more savings on the maintenance and customization your vehicle needs.
Explore Our Big Star Buick GMC Car Dealership
Interested in learning more about our GMC car dealerships in Baytown, TX? Contact our team at Big Star Buick GMC. When the time comes to search for a GMC dealership in Texas, choose us. You won't be disappointed with our high-quality models, additional savings options, and friendly staff. Explore your options online, then schedule a test drive in your favorite model from our dealership. We look forward to helping you get the process started on your favorite model today.
Ask A Question